Cooking On A Budget - Chickpea & Lentil Coconut Dahl
Ever
since I started juicing I have given up eating meat.
I still cook meat for the family but I'd like to introduce more vegetarian recipes into their diet, so I've been busy looking for tasty meals that they will enjoy, that are on a budget. I love chickpeas
,
lentils and Indian food, so this recipe is perfect
.
The kids love it too, even my fussy teenager and Hubby who doesn't like spicy food. It is really mild so if like me, you like more of a kick to it then add a finely chopped chilli. This recipe is super quick and easy.
Ingredients - Serves 6 - Approx £1.50 per person.
1 x 400g tin lentils

1tbsp Olive oil

1 onion, chopped

1 Garlic clove, crushed

3tbsp tikka curry paste

2 x 400g tin chickpeas, drained and rinsed

1 x 400g tin reduced fat coconut milk

200g Spinach

1 Lemon, juiced
Method
1. Fry the onion and garlic with a dash of olive oil for a minute or two in a large pan.
2. Stir in 3 tbsp of your curry paste and cook for a few minutes, stirring into the onions & garlic.
3. Add the lentils and chickpeas.
4. Stir in the coconut milk.
5. Bring to the boil and cook for about 30 minutes.
6. Stir in the spinach, season and add your lemon juice. Serve with brown rice & naan.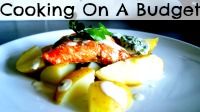 More Budget Recipes.
Cooking On A Budget - Chickpea & Lentil Coconut Dahl
Reviewed by
Emma@christmascupboard
on
Friday, August 29, 2014
Rating: