Magpie Monday - Snap Happy
I've had another good week of retro finds for my
vintage dresser
and
sideboard
. Ive been going to a fab car boot sale recently, and I even got chatting to an antique stall holder, all about 1960's and 70's furniture. This lady is also collecting stuff for her lounge and she gave me some great tips for finding bargains. Her top tip? Get to the booty early. I'm talking at least 7am. She showed me her personal haul from roaming around 3 hours earlier than me, and I was dead jealous.
I love this 1970's Halina camera. I couldn't resist popping a film into it and trying it out. I haven't used a camera like this for years. A great bargain find (from eldest Daughter) for £2. I guess bargain hunting runs in the genes.
This 1970's wooden tray is gorgeous. It will be perfect on my sideboard with maybe a 70's tea set. A bargain for £1.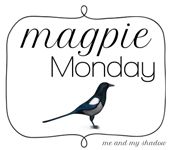 Magpie Monday - Snap Happy
Reviewed by
Emma@christmascupboard
on
Monday, August 05, 2013
Rating: