Following last weeks purchase of a
1960's dresser
, I have been looking out for bits & bobs to dress it once it has been painted. We went to a car boot sale yesterday and I came home with some lovely kitsch finds.
I found this fab retro typewriter at the booty for a fiver. I love it. As I am in my forties, typewriters were still very much in use when I was younger, although they were big electric ones, not like my retro find. A lot of my Friends left secondary school and went on to a special typing school, so that they could progress onto office work. It was something that never appealed to me and even though I loved to write I did struggle to concentrate on typing lessons at school.
My 22 year old Son, had a little go on this yesterday and said "Mum, how the hell did people use these things The keys are really hard to type on!" I laughed and told him him that people would type very well on them back in the day.
During the 70's I remember everyone had these orange animals. I have no idea where they came from or much about them at all, but I was instantly drawn to them and grabbed this Mummy and baby deer super fast, when I spotted them for 50p.
On the same stall, I found this 1960's cat ornament for 50p. I think it is really cute and will fit in nicely with my retro themed dresser.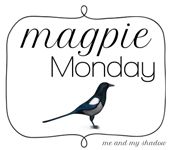 Magpie Monday
Reviewed by
Emma@christmascupboard
on
Monday, July 22, 2013
Rating: