Magpie Monday - The Retro Dresser
It has been weeks since I last joined in with Lizzie's 'Magpie Monday' and it isn't because I haven't wanted to, but I've been de-cluttering so have avoided the charity shops. That was until I spotted this...
It was love at first sight, a gorgeous 1960's/70's dresser. I know it doesn't look much now but after a few coats of Annie Sloan white paint, it will look brilliant. Perfect for the alcove in my lounge. I need some retro accessories to dress it and I have a mental list of things I'd like to display on my new dresser.
First up I wanted some wooden deer and was thrilled to pick up a whole family of them for a fiver. I love them!
Next item on my list was a retro soda syphon, and I was chuffed to find one at the car boot sale for £2.
And then as I was walking into my local charity shop, I saw a funky 1970's tray with a £1 sticker placed upon it. I must admit I nearly tripped up my own feet as I rushed over to it. I have been after one just like this for ages.
Found any bargains this week?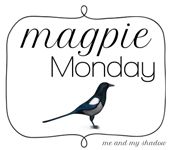 Magpie Monday - The Retro Dresser
Reviewed by
Emma@christmascupboard
on
Monday, July 15, 2013
Rating: