Thrifty Garden - Tea Cup Bird Feeder
Pin It
Since I became addicted to Pinterest I have been inspired to make quite a few things. As a crafty person I'm always on the look out for my next project and when I read that Kerry was going to start up a #pinaddicts linky for all those pins that we are dying to make I was excited to join in.
My first entry is a Giant tea cup bird feeder. I had one of these cups already in my garden that I usually plant flowers in and as it sits empty all winter it may as well be put to better use as a feeder for the birds.
The original tutorial is no longer on the site for some reason or maybe it has just been moved. However the feeder is very easy to make and this is how I did it...
I drilled a hole through the bottom centre of the cup and the saucer...
We then screwed it to an old post that we had in the garden and attached a square piece of ply to the bottom which stabilises the post.
We buried the bottom of the post under the soil and put a few stones on top to secure it in place.
The bird feeder is then ready to be filled with seed of your choice.
This feeder ideally is better for bigger birds. We have a different feeder for the smaller birds that visit our garden.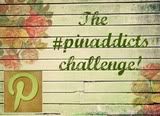 Thrifty Garden - Tea Cup Bird Feeder
Reviewed by
Emma@christmascupboard
on
Monday, February 06, 2012
Rating: