I'm loving this weeks Listography theme, our top five toys for kids. Kate will be compiling a list of the top ten toys as voted for parent bloggers based on what us Listographers come up.
1) Games Console - My kids range in age from twenty one down to my Granddaughter who is five so over the years I have purchased many Christmas toys. Basically though nothing really has changed much since my eldest child was small and number one toy on all their lists would be whatever new games console is out. The first one we bought for our kids was back in the early 90's and it was a Sega master system and the one we last bought was the Wii.
2) Bikes - A new bike always goes down really well and none of my kids are ever disappointed if they find Santa has left them one. One year when our Boys were about six & seven we bought them a shiny new bmx each...one red and one blue. We decided to play a little surprise on them by leaving the bikes in the kitchen so they opened all their pressies under the tree and Papa says to the boys "Can you go out to the kitchen and get a rubbish bag for all this mess?" Middle son jumps up dashes out to the kitchen and suddenly squeals with delight.
Me and Papa feeling thrilled to hear his excitement call out "Whats up son?" Middle Son rushes back into the lounge with a box of quality street in his hands and jumping up and down says "We have chocolate, we have chocolate!!!!" You would have thought the poor kid had never had chocolate in his life and he hadn't even spotted the bikes! We still laugh about that story today.
3) A Doll - Dolls are always appreciated especially if its a popular one like Baby Born, Baby Annabel or more recently those dolls that look real...Roby & Rosie. The amount of times I've done a double take as I see one out of the corner of my eye. Even worse if its just an arm sticking out from under the sofa or I open a cupboard door and theres one sitting staring straight at me. Makes me jump every time. Still, the kids love em even when their hair starts to go wild.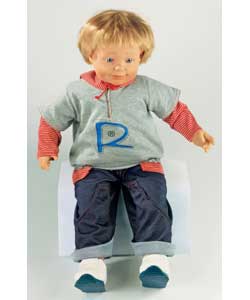 4) Fisher Price - I have always bought a Fisher price toy of some sort over Christmas whether it be a Garage, farm, dolls house, school or the most popular ever in out house was a castle. Kids love these toys with little cars, people and furniture that always catch their imagination and keep them entertained for more than five minutes. I love their stuff.
5) Little tykes - I couldn't leave without giving the cosy coupe a mention, all my kids have played with it. I reckon it must be the toughest toy on earth but then I find that with all the little tykes stuff. Their toys are so chunky and seem to last forever & ever in fact I still have a little push along in my garden that my kids had when they were little. Kids who visit us still play with it.