This weeks Listography over at
Kate Takes 5
is The First Five albums ever owned. So of course I'm going back to the Eighties.
In 1983 I got a paper round. Every Wednesday I would get home from school and deliver The Yellow advertiser, a free paper. I'd earn about £4 per week but would often share it with my brother as most of the time he would help me. That extra money meant I could save for records...vinyl. This was before I became a 'Rock Chic'.
1) Madonna's first album was self titled and released in 1983. I idolised Madonna...absolutely worshipped her and would dress up like her daily with lots of lace in my hair and bangles up my arms. Mum was not impressed as Madonna was regarded as very wild back then but she allowed me to listen to her music anyway, Thank God! Borderline and Holiday were two of my favourite tunes on the album.
2) Culture Club - Colour by numbers. I loved Boy George (and still do). I loved his eccentricity and that he was different from anyone else. My mates were all really into Duran Duran but they didn't float my boat and preferred Culture club. My favourite tunes on this album were Church of the poison mind and Karma Chameleon.
3) Paul Young - No Parlez - Fabulous album, Paul Young was Ace! My Fav's on this album were Love of the common people and wherever I lay my hat.
4) Now that's what I call music - I had the first ever one and it included hits like Heaven 17 - temptation and New edition - Candy girl. Great album full of top 40 chart music. Saved me taping it on Sunday night for a few weeks.
5) Michael Jackson Thriller - I didn't know anyone who did not have this album. It was massive and it was everywhere you went. PYT was my favourite song on the album.
Pop over to Kate's
Listography
to see what everyone had as their first five albums.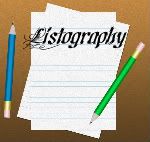 "/>