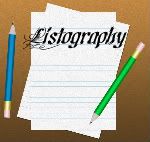 I'm loving Kates Listography this week...Talk about indulge myself in pure fantasy or wot! The theme this week is The Laminated List. You know the one from Friends when Ross is allowed to make a list of five women that in the unlikely event he were ever to bump into could have a one night stand with. This list is easy peasy to me as I have fancied my five for which seems like forever. And Papa if you are reading this 'They aint a patch on you Baby!'
1) My number one without question is Chester Bennington, the lead singer of Linkin Park. I love his passion when he sings and I could watch him all day long...phwoar!
2) My number two is Jared Leto, the lead singer of 30 seconds to Mars. If I was presented with him and Chester on a plate I would struggle to pick one of them...They are both 'Fit as'.
3)Johnny Depp - Sexy or wot! His eccentricity is the big turn on for me.
4)My number four Jon Bon Jovi would have been my number one twenty years ago buy hey I still fancy the pants off him.
5) Last but not least Fred Durst. I love his bad boy attitude...so appealing. Wouldn't mind snogging him!